MANAGE YOUR POOL pH EASILY WITH
........CLR-POOL-pH CONTROLLER......
The most critical parameter of Pool and Spa water is pH.
If the pH is not within the IDEAL range, you will get poor results in fact, they can be Disastrous.
Algae, Bacteria, Viruses, and virulent pests thrive at high pH.
Our CO2 pH Pushbutton-activated controller is the EASIEST, SAFEST, LEAST COMPLICATED, and a CONVENIENT way to keep your Pool or Spa functioning within the narrow parameters that help keep your pool SPARKLING.!!

EASIEST: Just PRESS the button until the desired pH is reached.

SAFE: NO MORE Liquid Acid or Dry Acid to Handle

SIMPLE: Your CLR-POOL CO2 pH controller cannot drive the pH to the low extremes which can happen with an acid based pH lowering process.

INSTALLS ANYWHERE:
Our CLR-POOL-pH Contains a Rechargeable Battery that Powers the Pushbutton Controller. It can be mounted and operated wherever the most convenient location is for you.
RECHARGEABLE BATTERY: Easily recharge, even at distant locations via an extension cord. The self-regulating Battery Charger has a bi-polar LED which changes from Red to Green when battery is fully charged.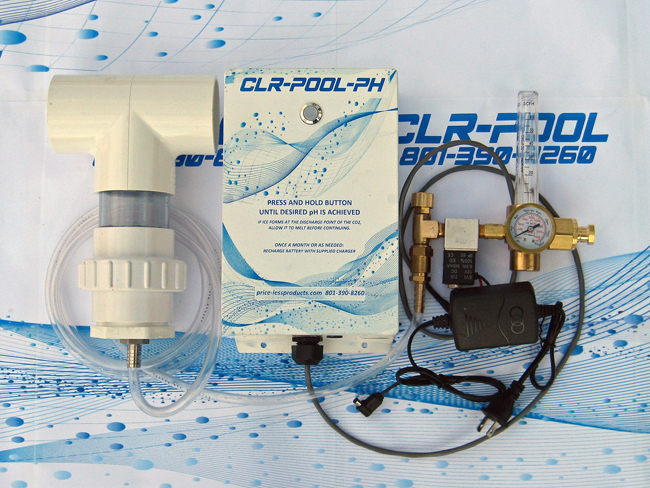 $599 PLUS SHIPPING
SIMPLE INSTALLATION:
1. INSTALL pH DIFFUSER TEE
2. MOUNT CO2 pH CONTROL BOX
3. ATTACH TO CO2 TANK
JUST PUSH THE BUTTON WHILE PUMP IS RUNNING TO LOWER THE pH